Why NapCap?
Put to the test for field operations in Somalia, NapCap is high-end, portable container accommodation. NapCap was created by a team who have spent years operating in remote locations, who value both security and comfort.
Clients can choose from our three NapCap products: Premium, VIP and our Villa. However, NapCap is both innovative and versatile – if you can imagine it, we can create it for you.
Portable (by air, sea and rail), modular, secure, comfortable, and designed in Australia, it's NapCap's attention to detail that guarantees a superior service.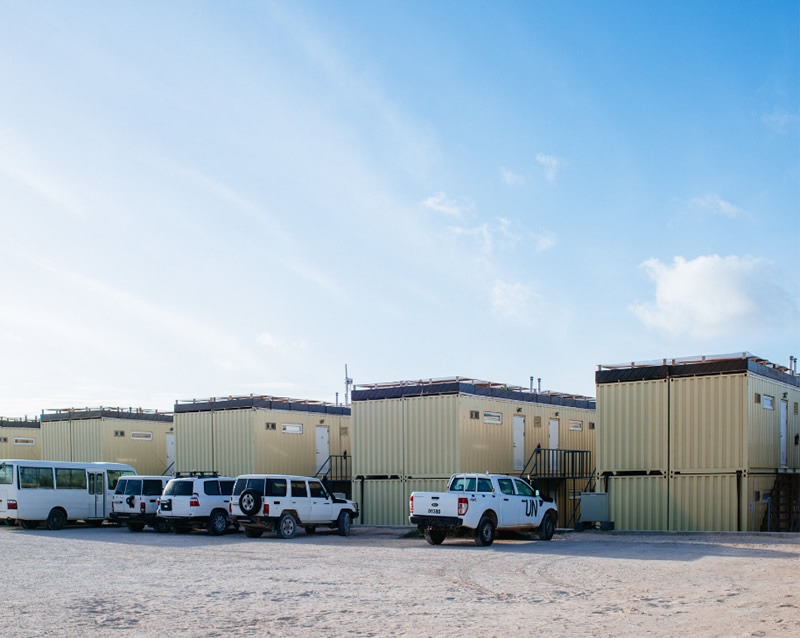 NapCap units are ideal for hostile environments (war zones), remote working camps (such as in the oil and gas industry), disaster relief (post-tsunami, earthquake or landslide) and refugee camps. Not only does NapCap provide the modular products, we also offer the designing, planning and management of your project as well as water treatment solutions.
Why Choose NapCap?
Superior quality

Easy to transport

UN-MOSS Compliant

Adaptable to all environments

Multiple design options

Stackable

Legacy Options

Green Living Support

Cost Effective

Proven Success in Hostile Environments
What Can NapCap Do For You?
Alongside our range of Premium, VIP or Villa NapCaps, our innovative team are able to create the NapCap to suit your unique requirements.
From en-suite accommodation, offices and medical theatres to gyms, we custom-design each unit to suit our clients' needs. NapCaps can be stacked, added on to, and easily refitted for a new purpose.
Anything is possible. Apart from comfortable accommodation, NapCap can create medical rooms, offices, gyms, temporary embassies, communal entertainment areas, coffee bars, and kitchens – any structure that you could possibly desire in a field operation environment.
'The security provided by the NapCap rooms is the best, I sleep soundly at Chelsea Village (but maybe that's the double beds!)